---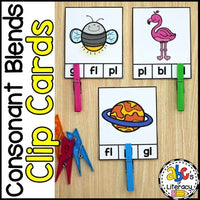 These Consonant Blends Clip Cards are an interactive, hands-on way for your students to practice identifying initial blends. This beginning blends activity is fun for phonics practice and can be used for morning tubs, literacy centers, or as an enrichment activity for early finishers.
* 160 Consonant Blends Task Cards

(br, cr, dr, fr, gr, pr, tr, sc, sk, sl, sm, sn, sp, st, sw, bl, cl, fl, gl, and pl)
Information For You:

This is a digital file. You will receive the PDF or .zip file to download and print. Due to the nature of this product, no refunds will be given.