---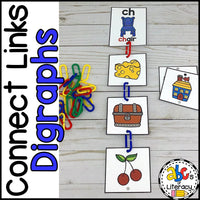 This Connect Links Beginning Digraphs Sort is a fun, hand-on way for your students to identify the digraph at the beginning of a word. This independent phonics activity is perfect for literacy centers, morning tubs, or as an enrichment for early finishers.
What's Included:
✎ 7 Digraph Cards (ch, kn, ph, sh, th, wh, wr)
✎ 35 Picture Cards (1 set without words and 1 set with words)
✎ 7 Answer Key Cards (1 list of words for each digraph)
Information For You: 
This is a digital file. You will receive the PDF or .zip file to download and print.